Iyer, Venkataraman M.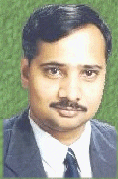 Title: Professor
Department: Accounting and Finance
Office: 325 Bryan Building
Phone: (336) 256-0187
Email: VMIYER@uncg.edu
Profile: Venkat Iyer received his Ph.D. from the University of Georgia in 1994. He came to UNCG in 1999, having also served on accounting faculties at Georgia College and State University and Wright State University. Venkat is a chartered Accountant (India) and he has also passed the CPA exam. He has over six years of experience in independent and internal audit areas.
Venkat's teaching interests are in the areas of Accounting Information Systems, Auditing, and International Accounting. His research interests are in behavioral and empirical issues related to audit firms and audit market. His research has appeared in Accounting, Organizations, and Society; Auditing - A Journal of Practice and Theory; Accounting Horizons; Journal of Education for Business; and Journal of Professional Services Marketing. He is a member of the American Accounting Association and the Institute of Internal Auditors.
Professional interests: Accounting Information Systems, Auditing and International Accounting
Website: http://www.uncg.edu/~vmiyer
Vita: http://www.uncg.edu/bae/people/viyer/vita.pdf