Hassell, Mary Eloise M.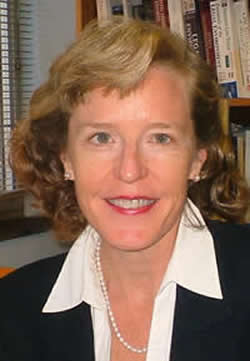 Title: Lecturer
Department: Management
Office: 373 Bryan Building
Phone: (336) 334-4535
Email: MMHASSEL@uncg.edu
Professional interests: Eloise McCain Hassell hails from Wilson, North Carolina. She is married to N.C. Special Superior Court Judge Robby Hassell, and they are the proud parents of two college-age daughters. Eloise graduated from UNC-Chapel Hill with a B.A. in History and from Wake Forest University School of Law with a Juris Doctor. Eloise has served the legal profession as an Agency Legal Specialist in the N.C. Department of Human Resources, as an Assistant District Attorney in Raleigh, N.C. and as an Assistant Public Defender in both Greenville, N.C. and in Greensboro, N.C. Eloise is certified as a N.C. Superior Court Mediator, N.C. District Court Arbitrator, and in matters before the N.C. Clerk of Superior Court, as well as a Certified Postal Service REDRESS Mediator. She has served as an Adjunct Professor at Elon Law School. She volunteers as a Preceptor for Elon Law school first year students, and was awarded the 2011 Elon Law School Student Bar Association Outstanding Service to Students Award. Eloise is a former Chair of the Greensboro Bar Association's Dispute Resolution Section and former President of its Young Lawyers Section. Eloise has received the 2006 UNCG Gladys Strawn Bullard Award for Faculty Service, the 2003 UNCG Alumni Teaching Excellence Award, and the 2010, 2006, 2002, and 1998 UNCG Bryan School Teaching Excellence Award. She was awarded the 2010 National Society of Leadership and Success (Sigma Alpha Pi) Excellence in Teaching Award and the 1999 UNCG Greek Leadership Educator of the Year Award, and in 2012 she was inducted into the Greensboro Bar Association Herbert Falk Society for her pro bono service. Eloise is a member of the NC State Bar, the North Carolina Bar Association, the Guilford Inn of the American Inns of Court, the Greensboro Bar Association, and the National Association of Pre-Law Advisors.
Website: http://www.uncg.edu/bae/people/hassell